Welcome to Pocono Merchants, the Pennsylvania Merchants and Business Services Network serving all of Eastern PA., the Poconos, Lehigh Valley, Allentown, Nazareth, Tannersville, Bucks Montgomery counties, Lehigh Valley, Delaware Valley, and beyond with local goods and services.
Home Improvement Companies - Products - Goods & Services - Merchants - Businesses Serving Eastern Pennsylvania
Home Improvement Products and Services
Pocono Flooring Retailers, Sales, Services, Installation
Wide Plank Flooring Pennsylvania

Hand Scraped, Oil Rubbed Flooring, Reclaimed Flooring, call it what you like, it never goes out of style.

A true timeless classic in traditional and modern homes, kitchens, living rooms, virtually entire homes had wide plank flooring.

What appears to be a latest style in flooring is actually a classic look that will remain so forever.

Visit The Floor Source Inc. in Brodheadsville, Pa. they are more than just a flooring store, they are Experts in flooring, with a great deal of knowledge, selections, varieties of hardwood flooring, Engineered Flooring, Finished and Unfinished, along with what is the best of both worlds, LVT or Luxury Vinyl Tile.

Luxury Vinyl Tile, the wave of the future, what nearly all floors will eventually be, why? The reasons are clear. The Look And Feel Of Authentic Wide Plank, Reclaimed, Hand Scraped Hardwood Flooring, BUT, With All The Advantages Of A Luxury Vinyl Floor.

Warm Those Bare Floors!
Featured Flooring Products with Shaw Area Rugs

Commercial Flooring Pennsylvania - Resilient Flooring

LVT - Luxury Vinyl Tile Lehigh Valley PA

*Not just for commercial applications. Have the look of hardwood with the durability of vinyl laminate flooring anywhere in your home.

Flooring Poconos, Flooring Lehigh Valley, Hardwood Flooring, Laminate Flooring, Tile, Vinyl, Commercial Flooring, Commercial Tile, Commercial Carpet, Carpeting, Cork Flooring
Above Ground Pools, Liners, Parts, Accessories

Above Ground Pools Lehigh Valley
Above Ground Pool sales and service for over 30 years. Great Prices, Great Selection, Great Service After The Sale Trusted For Over 35 Years!
Above Ground Pools, Parts, Supplies, Poconos, PA.

Hot Tubs, Swim Tubs, Jacuzzi Tubs, PDC Spa Authorized Dealer

Hot Tubs & Spas Lehigh Valley
PDC Spa & Pool World - Over 35 years of sales and service to the Lehigh Valley and Surrounding Areas.

Hot Tubs Saunas Showroom At PDC Spa & Pool World
Stop by their amazing showroom where they have many spas on display, the finest saunas, spa enclosures and spa privacy screens, pergolas, the finest above ground pools and a large selection of parts, supplies and accessories for all of your needs. PDC Spa & Pool World has everything you need to make every day a relaxing vacation in the privacy of your own home.

Hot Tub, Sauna, Pergolas, Showroom Serving The Lehigh Valley Poconos Pennsylvania

Saunas - Sauna Kits - Infrared Saunas - Far-Infrared Saunas - Finnleo Saunas
Poconos, Lehigh Valley, Pennsylvania

Beware of cheap box store lesser quality Saunas.
Stop by the showroom at PDC Spa & Pool World, see what true quality saunas look like, delivering Safe, even heating. Their highly tried staff will be glad to assist you, answer your questions, you can take home a kit or they have trained technicians for installations.
Serving: Saunas Lehigh Valley, Infrared Saunas Lehigh Valley, Saunas Tannersville, as well as Infrared Sauna Kits PA. in many areas. Contact them today, Highly Reviewed, In Business Same Locations Over 30 Years, Because They Sell The Best And Treat Their Customer's Best...


Fiberglass Pergolas, Privacy Screens Lehigh Valley, Pergolas Poconos,
Pergolas, Privacy Screens, Arbors, Trellises - Many Models Available Nationally

Fiberglass Pergolas, Privacy Screens At PDC Spa & Pool World - 701 Bridge St, Lehighton, PA 18235
Fiberglass pergolas, arbors and privacy screens in a large variety of sizes, options.

Pergolas, DIY Pergola Kits
Privacy Screens, Single Panel, Corner Two Panels
Arbors, Swing Arbors, Entry Arbors

Pergolas, Privacy Screens, Arbors, Trellises extend your outdoor home living in several ways including increasing the area you have to enjoy, live, entertain, but also by increasing the amount of time you can enjoy the outdoors seasonally.
Custom Motorcycle Builders Harley Engine Repair Rebuilding Pennsylvania

Custom Bagger Motorcycles PA, Custom Bobbers PA., Custom Choppers, Harleys Sales, Service, Custom Builds, Harley Engine Rebuilding, Harley Restoration, One Off Hand Fabricated Bikes. Mild to Wild, Iron Hawg Custom Cycles Inc. Nails It Every Time! Iron Hawg Custom Cycles - Hazleton, Pa.


Custom Motorcycles PA. by Iron Hawg Custom Cycles Inc. Hazleton, Pa. Custom Motorcycle Builders Pennsylvania
Custom Choppers PA and beyond. Award winning, hand fabrication, built right.


Bagger Builders Pennsylvania
Award Winning Motorcycle Builders.
Customizing Harleys For Decades

Custom Motorcycle Part Fabrication Pennsylvania - Custom Handle Bars, Custom Gas Tanks, Fenders, Stretching Frames Necks Tanks and Fenders. Complete Motorcycle Builders Shop.
Custom Motorcycle Parts Fabrication Pennsylvania, Custom Harley Part Makers Fabricators Manufacturers, Custom Motorcycle Parts Fabrication Modification Pennsylvania, Custom Harley Parts, Custom Bobber Parts, Custom Bagger Parts, Custom Chopper Parts, Custom Motorcycle Handle Bars, Custom Motorcycle Exhaust, Custom Motorcycle Tanks Fenders, Modify Motorcycle Frames Necks, Iron Hawg Custom Cycles Hazleton PA
Custom Bagger Motorcycle Builders Pennsylvania
Harley Hardtail Motorcycle Frames

Iron Hawg has been hard tailing Harley frames, streching necks, frame mods and more for decades! They know how to design, build, modify Harley frames Right!

They can assist you in choosing the right hard tail frame, kits, etc. Do the complete frame mods you need to existing frames, whatever you need. Don't waste time and money on the wrong kit, parts, etc. They know what works best to get the result you want!
motorcycle frame kits

Harley hardtails are one of Iron Hawgs Specialties!
Sportster hardtail frames and modifications
Softail bobber frames
Harley hardtail bobber frames
Custom motorcycle frame builders
Harley Frame, Neck Modification Services

Harley Engine Repair Rebuilding Pennsylvania

Iron Hawg Custom Cycles has been repairing, rebuilding, upgrading Harley Motorcycle Engine for decades!

From classic panhead, flathead, knucklehead motors to the most modern and recent upgrades.

Big Bore Kits, Screaming Eagle, Trask Turbos, Diamond Head cutting services, Iron Hawg has the experience to Do It Right The First Time!
Pennsylvania Taxidermist
Pocono Taxidermist
Brown Bear Taxidermy Studios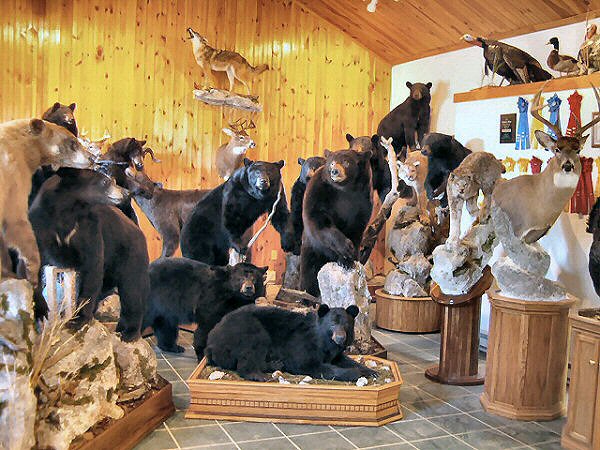 Pennsylvania Taxidermist - Bear Taxidermy - Deer Taxidermist Pennsylvania - African Taxidermist - Sheep, Moose, Predator, More. Visit their Taxidermy Studio in Pine Grove, PA. A short drive down route 81 south to one of the finest taxidermy studios in the country. Pennsylvania Deer Taxidermist - Bear Taxidermist Pennsylvania
Hunting Africa? Contact Brown Bear Taxidermy Studio Pine Grove, PA. before you go for great information on bringing your game back for mounting.

From plains game such as Wildebeast, Impala, Kudu, Gemsbok or any of the rest, Brown Bear Taxidermy Studio, Pine Grove, PA. has the specialized training in African Species to do the job right.

You put to much into your trip to lose your memories to bad taxidermy mounts.
Pocono Area Property & Land Surveyor - Serving Carbon Schuykill Counties PA. -
Michael Kafkalas Jr. P.L.S.
Professional Land Surveyor
Over 30 Years Experience Providing Land Surveying Services to the General Public, Lending Institutions, Developers, City, County & State Agencies, Contractors, Corporations, Architects, Attorneys and Engineers.
Serving Carbon And Schuylkill Counties PA
Over 25 Years Experience Providing Boundary Surveys - Lot Surveys - Title Surveys - Construction/As Built Surveys - Topographic Surveys - Engineering Surveys - Grading Plans - Erosion and Sediment Pollution Control Plans & Narratives - Subdivisions / Land Development Plans - FEMA Flood Certifications Surveys
P.O. Box 13 - Lansford, PA. 18232-0013
Phone 570-645-5800
Pennsylvania License #SU-049355-R
Romans 10:9
Ice Cream Shop Weissport, PA.
Chantilly Goods & Weissport Washboard
Ice Cream Shop Jim Thorpe, PA.

Ice Cream Party Packages - Serving Weissport, Jim Thorpe, Lehighton, Poconos, PA.


Weissport Washboard Laundromat
200 Bridge St. Weissport, PA.
Hours: 7 AM -9 PM - OPEN 7 DAYS A WEEK
610-379-4767 - Phone (Shared With Chantilly Goods)
Laundromat Serving Weissport, Lehighton, Jim Thorpe, Poconos, PA.

Office Leasing Lehighton PA.
Body & Soul Complex
701 Bridge St. Lehighton PA.


Public Self Storage Lehighton PA.
Body & Soul Complex
701 Bridge St. Lehighton PA.

Custom Home Builder Lehigh Valley and Poconos Region By Service Construction Co. Inc.

Custom Homes Builders Lehigh Valley, Custom Log Homes PA. and Eastern Pennsylvania, Custom Kitchens Lehigh Valley Poconos, Service Construction has over 30 years of experience and are chosen by homeowners and customer's who do their research.

Luxury Custom Home Builders Lehigh Valley the craftsmen and artisans of Service Construction Co. Inc. - Trusted custom home builders for over 35 years. Chosen by the most elite clientele, customers that can have their home built by anyone choose SC for quality, dependability, the highest standards, attention to detail. Saucon Valley Custom Home Builders

Service Construction Co. Inc On

Custom Homes - Custom Kitchens - Commercial Contracting
by Eastern PA. Builder Service Construction Co. Inc.
Taxidermist In Eastern, Pennsylvania

Brown Bear Taxidermy Inc. - Pine Grove, PA.
Licensed & Insured - 25+ Yrs Exp - 1Yr Ave. Turnaround
Offers the finest life like taxidermy mounts found anywhere.
African Taxidermist In Eastern PA., Sheep Taxidermy, Bear Taxidermy, Deer Taxidermist Pennsylvania, Fish Taxidermy, Wolf and other Predator Mounts.


Brown Bear Taxidermy On

African Taxidermist Pennsylvania
Brown Bear Taxidermy Inc.

Pennsylvania Taxidermy Studios are numerous throughout the state as well as the country. How can you decide who to use for your trophy mount? Experience, Attention To Detail, Quality, All Add Up To Make Or Break, The Trophy Mount Of A Lifetime.
PA Auto Inspection In Panther Valley, Tamaqua Area, Carbon County, PA. Erbe Tire And Auto Repair - 570 645 4004

Auto Repair Services - Serving South Poconos of PA. - Carbon County, Schuylkill County, Panther Valley State Inspection Station, Tamaqua Auto Repair, Hometown, Jim Thorpe Auto Repair, Surrounding Areas In PA.

Auto Body Rust Repair Near Me

Erbe's Tire & Auto Services 321 W Water Street (Route 209) Coaldale, PA.
West Coast Choppers Custom Build For Sale
MAGAZINE FEATURED BUILD
Mike Seate 2003 Special Build - Photos Are Scanned From Magazine Issues - All Credits & Rights Reserved By Original Creators - Fabrication: Steve Peffer Steel City Choppers - Assembly SSC, Painter SSC, Engine Builder Ultima, Engine: 2003 Ultima El Bruto, 113 C.I. - Frame: 2003 WCC Choppers For Life, Tank & Fenders & MANY Genuine Parts By West Coast Choppers/Over 30k Invested - How To Own This Bike

REDUCED! CASH TALKS!

Sowa Custom Woodworking LLC
Ph. 267-371-0006 1290 S. Old Bethlehem Pike, Quakertown, PA. 18951 - Serving Bucks, Montgomery, Delaware Valley, PA., NJ & Surrounding Areas

PA. Reg# 072391
Sowa Woodworking LLC Quakertown, PA. Cabinetmaker,

Sowa Custom Woodworking LLC - Custom Wood Cabinet Shop Serving Pennsylvania, New Jersey With Premium Handcrafted Woodworking. Bucks County Cabinet Shop
Sowa Woodworking LLC is a privately owned custom cabinet shop located in Bucks County, PA.

Custom Kitchen Cabinets Bucks County manufacturing in our woodshop hand-crafted one of a kind Delaware Valley Custom Cabinets Woodworking
Welcome to Pocono Merchants, the Pennsylvania Merchants and Business Services Network serving all of Eastern PA. and beyond.
Pocono Merchants Started in 2001 as a resource network for Pocono and Pennsylvania Area Merchants, Businesses and Service Providers, Pocono Merchants has grown to include not only the Pocono area but all of Eastern Pennsylvania.